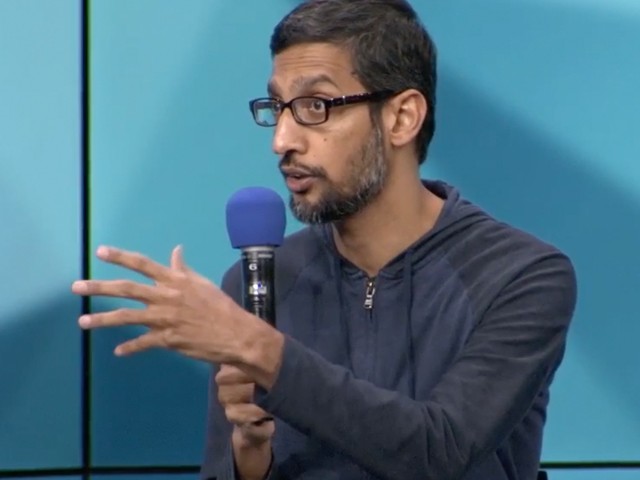 Seeking to reassure employees at a meeting following the victory of Donald Trump in 2016, Google CEO Sundar Pichai outlined a range of responses to the election, including "educational tools" to reach what one participant described as "low-information voters."
Just a few days after the election, the Google CEO can be heard promising to prevent alleged "fake news" from impacting future elections by investing in "machine learning and A.I." Pichai also tells employees that the company's D.C. office has already begun the work of "engaging with the transition team of the new administration."
The comments were brought to light in a video leaked exclusively to Breitbart News by an anonymous source. The video is a full recording of Google's all-hands meeting immediately following the 2016 election, featuring CEO Sundar Pichai, co-founders Sergey Brin and Larry Page, and several other Google executives. It can be watched in full below.
Pichai also confirms to an employee that Google will use its products to help people make "informed decisions."
Just over halfway through the video, an audience member asks if Google is willing to "invest in grassroots, hyper-local efforts to bring tools and services and understanding of Google products and knowledge" so that people can "make informed decisions that are best for themselves."
Watch:
Pichai's response: Google will ensure its "educational products" reach "segments of the population [they] are not [currently] fully reaching."
Elsewhere in the video, Pichai responds to a question about "misinformation" spread by "low-information voters" influencing election outcomes. The Google CEO responds by promising more investments in "machine learning and A.I."
Watch:
Watch entire leaked video:
Breitbart News requested comment for this story from Google but did not receive a reply at press time.
Allum Bokhari is the senior technology correspondent at Breitbart News. You can follow him on Twitter, Gab.ai and add him on Facebook. Email tips and suggestions to allumbokhari@protonmail.com.
http://feedproxy.google.com/~r/breitbart/~3/ETQ10PSvXtk/